I was going to wait
a few days and do a couple of non-food posts before I put this one up, but changed my mind. I shared my intention to try this recipe on
Facebook
and a few people asked for the recipe. As I really didn't have a different post ready for today, I decided to go ahead and strike while the iron was hot.
When visiting my younger brother
in
Los Angeles
recently, I mentioned that he was the gourmet cook of the family. He makes the most amazing food - all from scratch - and does it with such ease. Well, he filled me in that he really isn't that much of a true chef and probably won't cook again once his kids are grown. To keep inspired, and to keep feeding his family home cooked and healthy meals, he has to prime the pump with great cookbooks and new kitchen gadgets. Everything he makes comes from recipes and he doesn't get creative with them. I was floored.
With his permission
I took one of his old cookbooks home -
Rick Bayless' Mexican Kitchen
- and then proceeded to unpack all my cookbooks and food magazines that have been in storage since our move. It was time to find some inspiration of my own. One of the first food magazines I picked up had many recipes I wanted to try, It was a
Better Homes and Gardens
Special Interest issue from 2014 called Make and Take (still available as a Nook Book
HERE
). Inside you'll find tons of recipes for get-togethers, potlucks and more.
As I wanted to try a
recipe for Turkey
Koftas
, I decided to select a side dish from this magazine -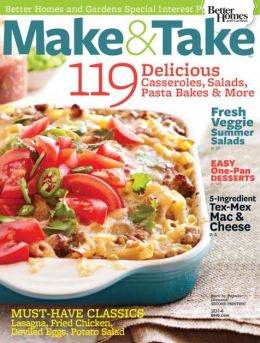 hence my decision to try Apple and Cheddar Penne Pie. There is a bit of history that drew me to this recipe as well. When I was a very young child, my paternal grandmother introduced me to the old fashioned wonder of placing a slice of good quality aged cheddar cheese on a piece of hot apple pie and letting it melt slightly before eating. It was WONDERFUL! It's been years since I thought about that time, but when I heard the words apple and cheddar in the same sentence, the memories came rolling back.
Last night the koftas
were only just good, but I felt the Penne Pie was a true success. 2 of my guys packed the extras to take to work for lunch the next day. I did make the pie earlier and reheated it at serving time, but think next time I will just prepare through step 3 and set everything aside. Then at the right time it can be quickly assembled and popped in the oven so it can be served piping hot.
Note - as with any dish including cheese,
it's really important to purchase a good quality aged cheese to get the best flavour and texture. This is not the time to cut corners. So take the time and spend the money to get the best cheese you can.
= = = = = =
Apple and Cheddar Penne Pie
8 servings
Ingredients
2 T Butter or margarine, softened
2/3 C Panko (Japanese-style bread crumbs) - separated
3 tsp Fresh thyme, snipped
12 oz Dried penne pasta (about 3 1/2 cups)
2 C Chopped peeled tart cooking apples (about 3 medium)
1/2 C Chopped sweet onion, such as Vidalia or Walla Walla (1 small)
3 T Butter
3 T All-purpose flour
1/2 tsp Salt
1/4 tsp Ground black pepper
2 C Whole milk (I actually used non-fat cream for more flavour)
1/2 C Apple cider (instead of regular I used Grower's Extra Dry Apple Cider - yum)
6 oz. Cream cheese, softened and cut in cubes
1 1/2 C Shredded GOOD QUALITY aged white cheddar cheese (about 6 ounces)
Fresh thyme sprigs (optional)
Directions
1. Preheat oven to 350 degrees F. Grease a 10-inch springform pan with 1 tablespoon of the softened butter. Sprinkle sides of pan with 1/3 cup of the panko to coat; set aside. Melt the remaining 1 tablespoon softened butter. Stir the remaining 1/3 cup panko and 1 teaspoon of the thyme into melted butter; set aside.
2. Cook pasta 2 minutes less than directed by package directions; drain. Return pasta to pan; set aside.
3. Meanwhile, in a large saucepan cook apples and onion in the 3 tablespoons butter over medium heat for 5 to 8 minutes or until tender. Add flour, salt, and pepper to saucepan. Cook and stir for 2 minutes. Stir in milk and apple cider. Cook and stir until thickened and bubbly. Reduce heat to low. Add cheeses and the remaining 2 teaspoons thyme; stir until cheese melts.
4. Add sauce mixture to pasta; stir to combine. Spoon pasta mixture into prepared pan. Sprinkle with reserved panko mixture.
t. Bake, uncovered, about 40 minutes or until edges are bubbly. Let stand on a wire rack for 20 minutes. Remove sides of pan. Using a serrated knife, cut pie into eight wedges (it does crumble a bit so just add those bits to the serving). If desired, top with fresh thyme sprigs.