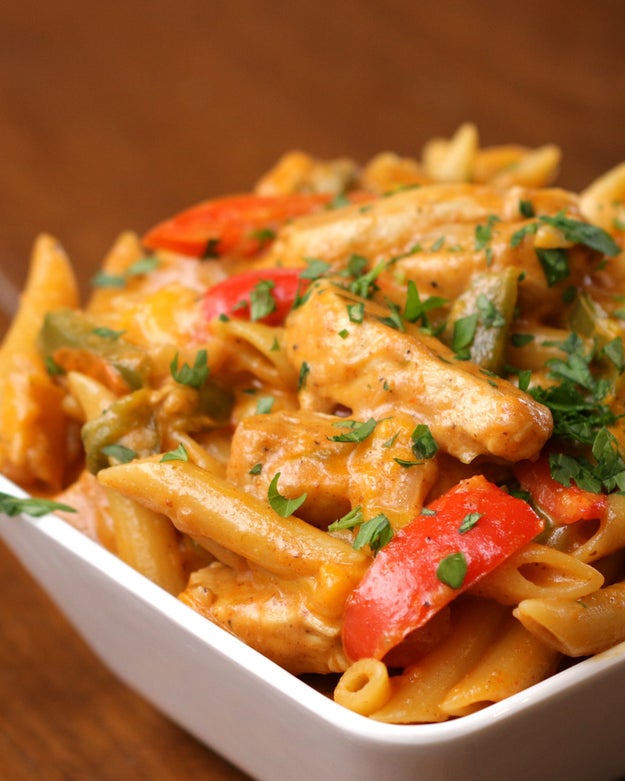 I love when my
Facebook friends share recipes. Let's face it - most are recipes they have seen posted on other sites and have never made. They really are food porn and ultimately make us wish we all had a personal chef we could hand the recipe over to. Wouldn't that be amazing?
This recipe from
BuzzFeed.Com
was one I looked at several times. There were things I liked and things I didn't, but in the end I couldn't resist giving it a try. I love the idea of a one-pot meal and yet it is still made from scratch with fresh vegetables, meat, pasta, cheese and milk. No crazy additives and really not a long list of ingredients.
June 21st was my
husband's 65th, so I pulled this out of the must try file. While he might have preferred BBQ'd steaks and mashed potatoes - what I make for his birthday when the whole family comes over - he's ultimately just happy to have food on the table. The fact I made it from scratch was an added bonus.
I changed just a bit
in the prep. I cut the onions in half lengthwise and the sliced them crosswise into narrow strips. The bell peppers I like in smaller bites and the image makes it look like they did in the original too. So once they are all cut in long, narrow strips, I turn them sideways and make one crosswise cut slicing the strips in half. This size is a little easier to work with.
In the end, I'm on
the fence on this one. I did enjoy that it has a bit of zip to it, but not so much my husband couldn't eat it. And it did have flavour. Pasta dishes can be tricky in this area. But I think for my taste something needs adjusting in this recipe I'm suspecting it's the Tablespoon of Chili Powder and/or Cumin. When I try it again, I'm going to cut the Cumin in half and see if that's does the trick for me. Cumin is not one of my favourite herbs, so I'm thinking the Tablespoon is too much for my palate. If you adore Cumin, then it's probably just right as is.
Lucky for you,
Buzz Feed has created a video tutorial by Alvin Zhou, Emma Tyler and Tasty for those who prefer to watch.
= = =
One-Pot Chicken Fajita Pasta
Serves 3–5
Ingredients
3 T Oil
3 Chicken breasts, sliced
1 Red bell pepper, remove stem and seeds, slice lengthwise into narrow strips
1 Orange bell pepper, remove stem and seeds, slice lengthwise into narrow strips
1 Yellow bell pepper, remove stem and seeds, slice lengthwise into narrow strips
1 Sweet onion, cut in half length-wise, then slice crosswise into narrow strips
1 tsp Salt
1 tsp Pepper
1 T Chili powder
1 T Cumin
1 T Garlic powder
5 C Milk (regular, half & half, skim or your favourite mild subsitute)
4 C Penne pasta
1 C Pepper jack cheese, shredded (you could try a Cheese substitute here, but honestly think the cheese is an important flavour note. You could up the hot with a shredded
habanero cheese. )
Instructions -
Heat oil in a large pot over high heat. Add chicken and cook until no pink is visible. Remove chicken from pan and set aside.
Add onion and cook 2-3 minutes, then add the bell peppers and continue cooking until the onion is translucent. Add the chicken back to the pot with salt, pepper, chili powder, cumin, and garlic powder, stirring until evenly coated.
Add the milk and the penne, stirring constantly to prevent any pasta from sticking. SEE NOTE BELOW! Cook for about 8-10 minutes until pasta is cooked and the milk has reduced to a thick sauce that coats the pasta. Add the cheese and mix until melted. Serve!
(NOTE - doesn't say whether to leave the pot covered or uncovered, but assuming from the video it is uncovered. However, the liquid to penne ratio is low, so I think this is another reason for the constant stirring. It keeps you from having bits of penne that are cooked and other that are not. I ended up needing to add just a bit of water to get the pasta to the texture I like.)