IRIS pairs legendary 87-year-old
documentarian Albert Maysles with Iris Apfel,
the quick-witted, flamboyantly dressed 93-year-old
style maven who has had an outsized presence on
the New York fashion scene for decades. More than
a fashion film, the documentary is a story about
creativity and how, even in Iris' dotage, a
soaring free spirit continues to inspire.
I was very excited to discover
this 2014 documentary on
New York
fashion icon
Iris Apfel
was available on
iTunes
. Images showcasing her unique fashion sense had crossed my path many times, and she was one of the women featured in the documentary -
Advanced Style
(link to preview clip). I had no idea someone had created a solo documentary on her and couldn't wait to check it out. Last night was the night.
This entertaining tribute to her originality
was created renown film maker
Albert Maysles
, who was 87 at the time of filming. Apfel was 93 (and her husband turned 100 during filming). Maysles has since passed, but Arfel, now 94, seems to still be going strong. All through the movie I was drawn in by her truly unapologetic approach to life. She wears what makes her happy - often burdened down with layers of necklaces and wrists heavily draped in an assortment of large bracelets.
Then there is her trademark
large goggle-like glasses in several shades. I love the way interviewer
Megan Conner
of
The Guardian
described her after their
interview
as, "Charmingly rude, brilliantly abrupt, wearing gigantic owlish glasses and necklaces that look like pythons sliding around her oesophagus, Apfel is the kind of rare nonagenarian people want to keep hold of." I want be here when I grow up.
Apfel's wardrobe fills several rooms
in her New York apartment, fills her mother's apartment and her
Palm Beach
residence as well. The oldest thing in her closet? The dress she wore 68 years ago to go on her very first date with her husband, Carl.
She has been an avid collector
of accessories in particular all her life and states it's always been more about how the piece captures her imagination rather than the price. That doesn't mean there aren't vintage top designer garments and jewellery in her collection as well. She loves colour, she loves pattern, she loves variety, she loves making a statement - just my kind of female icon.
One part of the documentary I enjoyed
was when she was brought into Loehmann's on her 90th birthday - the store's 90th anniversary as well - and was asked to share her thoughts as well restyle some of the young women in the audience to reflect her own edgy vision. They all looked amazing and were absolutely happy with their new look. At least one admitted she never would have tried that garment on if she had seen it on the rack.
I also had no idea
there had been a curated show featuring her collection. It began as a fill in for a show that fell through. Needing a quick replacement, one of the curators at
The Costume Institute
in The
Metropolitan Museum of Art
called Apfel in desperation. He had borrowed pieces from Apfel several times over the years to use in other shows. Would she again be interested? Of course! While the exhibit's original focus was on her accessories, they decided to have the pieces displayed on full looks created by Apfel from her extensive wardrobe.
According to Apfel, they asked
for five outfits of her choice, styled with jewellery of her choice. When she asked them what they wanted, the response was they didn't know. "And that opened a Pandora's Box." Rara Avis (Rare Bird): The Irreverent Iris Apfel premiered on September 13, 2005. There were no sponsors which meant no money for advertising - yet attendance grew daily. driven solely by word of mouth at first. While insiders knew who she was, many had no clue and the media stepped in to conduct countless interviews. The exhibit was such a success, a traveling version was created that showcased at the
Norton Museum of Art
in
West Palm Beach
, the
Nassau County Museum of Art
in
Roslyn Harbor
, and later at the
Peabody Essex Museum
in
Salem
.
Other highlights for me were
watching Apfel and her husband peruse the tables at a swap meet. Carl ended up getting studded red baseball cap. She also created a line of jewellery and had to appear on the Shopping Channel - it sold out of course. Lastly was a walk through the dusty loft where she stored treasures accumulated during years of travel. I have to admit it didn't look well organized and a bit of a fire hazard - but still interesting to see some of the treasures stored there.
I have decided I want to
learn to channel Iris Apfel's irreverent style - both in fashion and life. I find myself totally inspired. In closing, I thought I would share some favourite quotes.

= = = =


Quotes from Iris Apfel - 18 True Gems on Fashion and Life!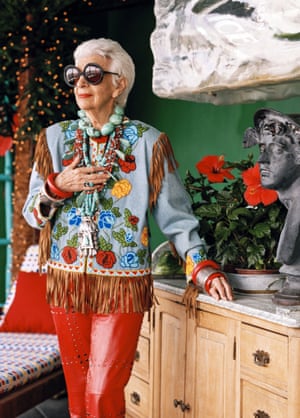 When you don't dress like everybody else, you don't have to think like everybody else.
Style is attitude, attitude, attitude!
I think jewelry can change an outfit more than anything else. Transformation, punch, individuality: One or all of the above are why you should wear jewelry.
If there was a choice on spending a lot of money on accessories or dress, I always chose accessories. I think jewelry can change an outfit more than anything else.

If you don't learn constantly, you don't grow and you will wither. Too many people wither on the vine. Sure, it gets a little harder as you get older, but new experiences and new challenges keep it fresh.


You only have one trip. You might as well enjoy it.
You have to be interested. If you're not interested, you can't be interesting.
I don't have any rules, because I would only be breaking them, so it's a waste of time

If you can't be pretty, you have to learn to make yourself attractive. I found that all the pretty girls I went to high school with came to middle age as frumps, because they just got by with their pretty faces, so they never developed anything. They never learned how to be interesting.

Fashion you can buy, but style you possess. The key to style is learning who you are, which takes years. There's no how-to road map to style. It's about self-expression and, above all, attitude.


You have to look in the mirror and see yourself. If it feels good, then I know it's for me. I don't dress to be stared at, I dress for myself.
I just never want to completely grow up.
I don't care what people think…I learned that I have to go to bed with myself at night and that I have to please myself…and as long as I don't go out of my way to offend anybody that I love, upset my mother or my husband…I'll do my own thing. And if the public doesn't like it, it's their problem, not mine.
I was talking with my nephew this morning and he gave me one of the best quotes I've heard in years 'Personal style is curiosity about oneself.'

I say, dress to please yourself. Listen to your inner muse and take a chance. Wear something that says 'Here I am!' today.

I'm a hopeless romantic. I buy things because I fall in love with them. I never buy anything just because it's valuable. My husband used to say I look at a piece of fabric and listen to the threads. It tells me a story. It sings me a song. I have to get a physical reaction when I buy something. A coup de foudre – a bolt of lightning. It's fun to get knocked out that way!

I never just went to look for clothes and style; I always find that wherever I go.

I'll spend more time getting dressed than I spent at the actual event.